The diagramming tool

for developers
Using general-purpose diagramming tools can feel like coding on Google Docs. Terrastruct is designed to handle complexity, with a feature suite tailored to software engineers like you.

Start your 7 day free trial
(No credit card required)
Powering visual documentation at
An IDE for diagrams
Terrastruct's uniquely supports both drag-and-drop and text-to-diagram, allowing you to create both free-form and structured diagrams, all in one tool. Feel how much easier it is to create and maintain diagrams with features such as
Text-to-diagram
Syntax designed from the ground up to let you express all sorts of software architecture, and kept simple enough to learn in minutes.
Bidirectional editing
Sometimes you want to take the reins and place an object in a particular location or resize it to be just perfect. Changes you make on the board get synced to the text.
Autoformat
Never worry about syntax style or indentation. On each save, the autoformatter does the housekeeping.
Syntax highlighting
D2 comes with syntax highlighting extensions for Vim and VSCode, making it pleasant to read and edit with a native feel.
Themes & styles
Diagrams from scratch to presentable in your company blogs and wikis in a matter of minutes, personalized to a selection of beautiful themes and limitless styling options.
Icons & images
We have a wide variety of handpicked icons, as well as Google image search built into the app, all easily embeddable into D2.
The language for
text-to-diagram
A modern, open-source DSL designed specifically for software architecture diagrams.
See documentation
View Github
Download cheatsheet
Interactive, multi-layered diagrams
Zoom in to lower levels of abstraction or out for overviews. Define scenarios for each layer (e.g. what happens when there's an error in this server?). Terrastruct's web app is built to handle complex diagrams. Click around in this example to see what we mean.
Text for speed, GUI for precision, best of both
Some diagrams require precision, when you have a clear image in your head of what it should be. Others don't -- there's 100 ways to draw it as long as it looks good and has the right structure. Terrastruct gives you the tools to mix and match. Our GUI editor is fully-featured if you just want the traditional diagramming experience with all the benefits of multi-layered. You can even create the diagram in IDE mode then adjust in GUI mode.
Learn more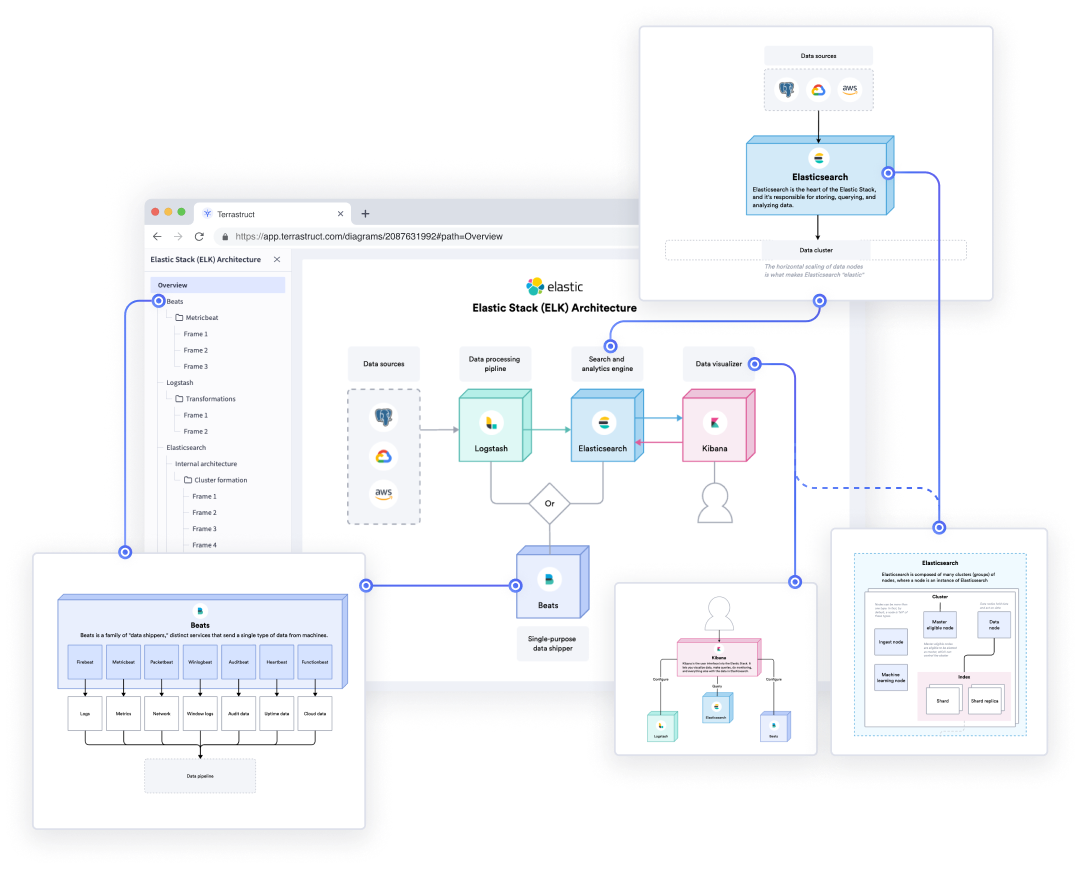 Open-source language you can trust
D2 is a modern diagramming language developed by Terrastruct. We're not asking you to learn and adopt a niche proprietary language. D2 was open-sourced in November 2022, and has seen soaring popularity in the community.
It will be the future of using text to diagram, and it's entirely free and open-source, so even if you decide later to opt out of Terrastruct, your D2 diagrams remain just as useful and functional.
Learn more
10,000 on GitHub
A custom layout engine that give your diagrams a competitive advantage
We've developed a layout engine from the ground up to specifically make software architecture diagrams look amazing. Paired with D2, you won't believe how quickly you can take an idea in your head and turn it into a production-ready diagram that you'd be proud putting on your company blog, internal wiki, or client deliverables.
Learn more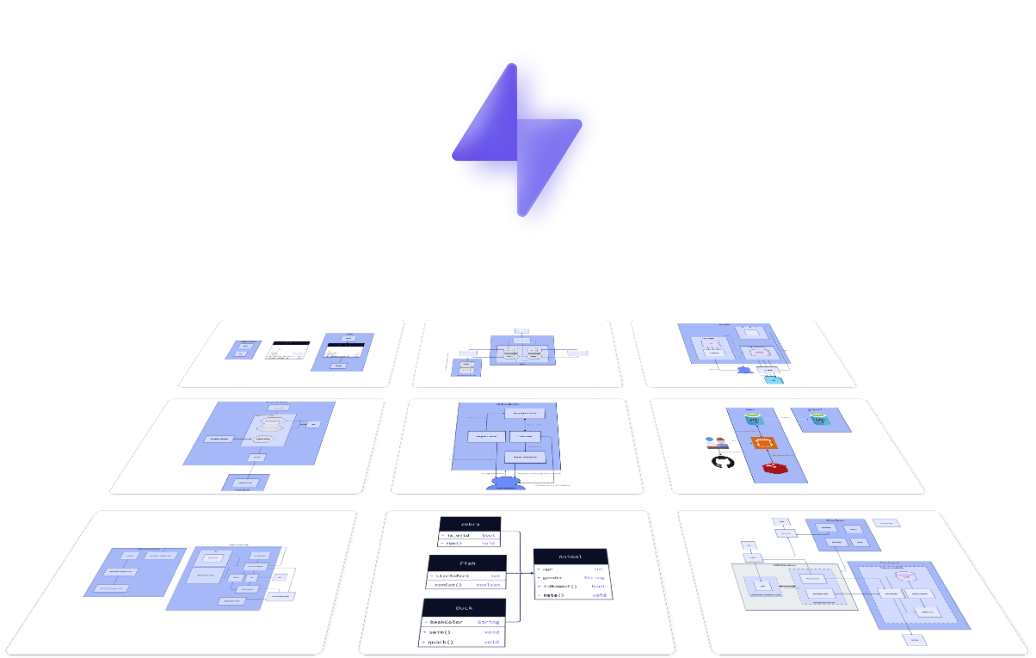 Terrastruct helps software teams around the world realize the full potential of visual documentation
"We have a Miro license and... it does a million things I don't need, and doesn't do the few things that are killer features of Terrastruct... Miro is like a supercharged whiteboard, but I want a dynamic, zooming blueprint stack. Miro can't do it any more than Lucidchart can. ... cannot compete with the core features of Terrastruct."
Dave B.
Senior DevOps Engineer
"Wow, really impressed at how much better existing diagrams are once ported to Terrastruct. Makes everything way clearer. Like I've just gone through too many moments of 'Ah whatever you get the point', when diagramming/fighting to diagram on other tools. Terrastruct just works."
Bob R.
Software Engineer, Facebook
Pricing
Terrastruct Bundle
$20 month/user
Highlights:
Web app
D2 with basic support
TALA personal license
Start your 7 day free trial
Ideal for individuals, contractors, small teams
IP of diagrams belongs to individual
Powerful, feature-complete GUI
Unlimited diagrams
Unlimited boards per diagram
Team sharing/assets
Password-protected diagrams
Branded presentations
Hand-drawn style
Enterprise
$30 month/user
Highlights:
Web app with Enterprise features
D2 with dedicated support
TALA enterprise license
Questions? enterprise@terrastruct.com
Ideal for engineering teams of 10+
Learn more
IP of diagrams belongs to organization
Single Sign On (SSO)
Audit trail (SIEM)
Option to host on-premises
Admin portal
Insights & analytics
Custom support & integrations
A full diagramming stack
The Terrastruct bundle and Enterprise tiers give you the full stack of diagramming tools for your developer toolkit.
Platform to host and manage diagrams and team. Web viewer for professional presentations. Powerful GUI editor. Rich selection of icons. IDE for D2 integrated with our layout engine and bidirectional editing.
If you prefer to run everything locally and are just looking to get the benefits of our layout engine, you may also purchase a standalone TALA license:
Personal TALA license
Terrastruct's proprietary layout engine specifically designed for software architecture
Purchase
Upgrade your project's visual documentation
Ship better software with better tools
Start your 7 day free trial
(No credit card required)